As the deadline of the pre-registration (30th June, 2019) is getting closer, the number of pre-registration applications is increasing rapidly.
The Ministry of Environment (MoE) has given the following recommendations for those who need to pre-register by appointing an OR:
Considering the time taken to process and approve the OR Confirmation and Pre-registration Application, it is recommended to submit the OR Applications by 14th June.
Due to the rush of pre-registrations, there is possibility that the K-REACH IT System server face access issues.
Enterprises import or manufacture existing chemical substances 1 ton and over per year into Korean market are required to submit pre-registrations by 30th June, 2019. After pre-registration, related enterprises can enjoy a grace period of 3-10 years, which can undoubtedly lower the economic burdens.
CIRS warmly suggests that if non-Korean enterprises do need to complete pre-registration, they must appoint an OR in early June and provide POA as well as the required information, so that OR can submit OR confirmations and pre-registration dossiers as soon as possible.
Background:
The Act on the Registration and Evaluation of Chemicals (known as K-REACH) passed the plenary session of the National Assembly in Korea on April 30, 2013 and has come into force on Jan 1, 2015. Dec. 2016, the Ministry of Environment (MoE) started to revise the K-REACH and the amended K-REACH came into force from 1 Jan. 2019.
In accordance with the requirements of the amended K-REACH, manufacturers/importers that manufactured or imported at least one ton per year of an existing substance between 2016 and 2018, shall complete pre-registration between 1 Jan. 2019 and 30 Jun. 2019. Enterprises that have completed the pre-registration can enjoy a corresponding registration grace period based on the tonnage band as well as the hazards of substances.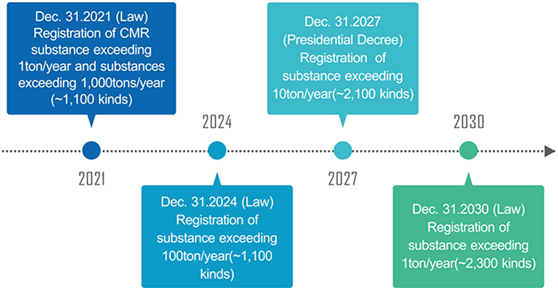 Enterprises that have not completed pre-registration or registration cannot continue to manufacture/import/export substances exceeding 1 ton/y after 30 Jun. 2019. If related enterprises illegally manufacture/import/use substances, the responsible enterprise or responsible person may be imposed imprisonment of no more than 5 years or a fine not exceeding 100,000,000 won, depending on the number of illegal activities and the seriousness of consequences.